The Best Deal in Small SUVs?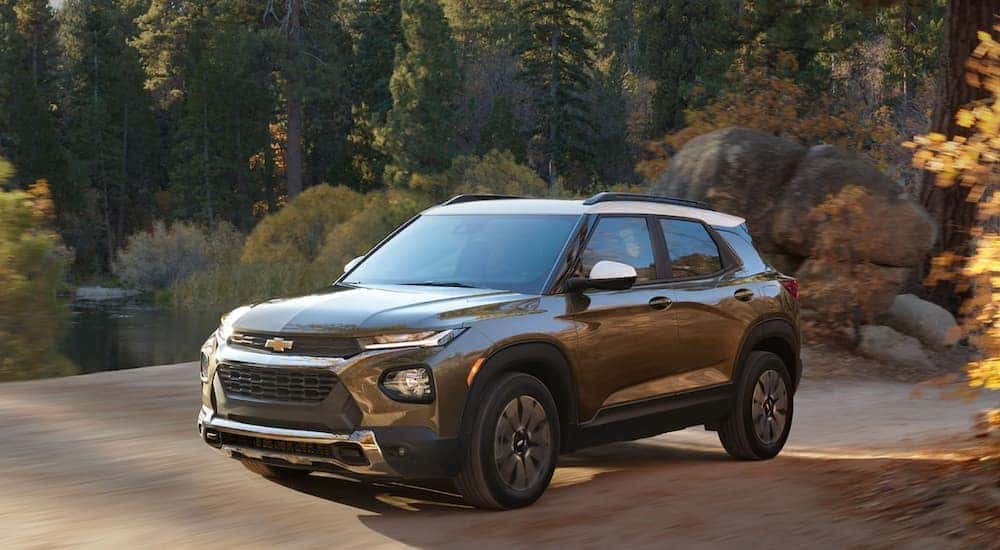 For 2021, Chevrolet will be introducing a new small crossover SUV packed with premium features for an amazingly low price. Slotting between the larger Chevy Equinox and the smaller Chevy Trax, the all-new 2021 Chevy Trailblazer (not to be confused with the midsize Chevy Blazer) will have a starting price lower than either. If you are in the area, be sure to swing by our Chevy dealership and take this stylish and feature-packed vehicle for a test drive. Even if you are not currently in the market for a new SUV, the value of the new 2021 Chevy Trailblazer might just change your mind. And who knows, you may even find something else that interests you among the wide variety of models we currently have available at our dealership.
Looking Good, Inside and Out
From the outside, no one would guess that the 2021 Trailblazer is Chevrolet's lowest-priced SUV. With its sharp modern lines, distinctive head and taillights, and trim-specific aluminum wheels, the Trailblazer would already have everything it needs to turn heads. But to add that extra punch, Chevrolet will also be offering the 2021 Trailblazer in a variety of attractive contrasting two-tone color schemes. Altogether, this combination stands out even among all the other modern offerings on our Chevy dealership lot.
Of course, the exterior of a vehicle alone is not the only thing that is important when it comes to looks. After all, you spend more time inside your vehicle than you do admiring it from the outside. Fortunately, when you open up the door and step into the 2021 Chevy Trailblazer, its stylish interior fully lives up to the appeal of its exterior. The same clean angular styling that shaped the outside panels has also been applied to the interior trim, while a two-tone color scheme reappears for the dashboard and seat covers. Finally, the new Trailblazer also offers a large sunroof to complete its upscale feel.
But style is not the only thing the interior of the Trailblazer offers. Despite its smaller size, it is still a spacious and versatile SUV that has no problem seating five. And unlike some competitors, the 2021 Chevy Trailblazer has plenty of legroom for its back seat. When it comes to moving cargo, the 60/40 fold-down rear seats on the Trailblazer can accommodate up to 54.4 cubic feet. This already impressive cargo space can be further expanded with the available fold-flat front passenger seat, which will allow you to comfortably fit objects up to eight and a half feet long with the tailgate closed.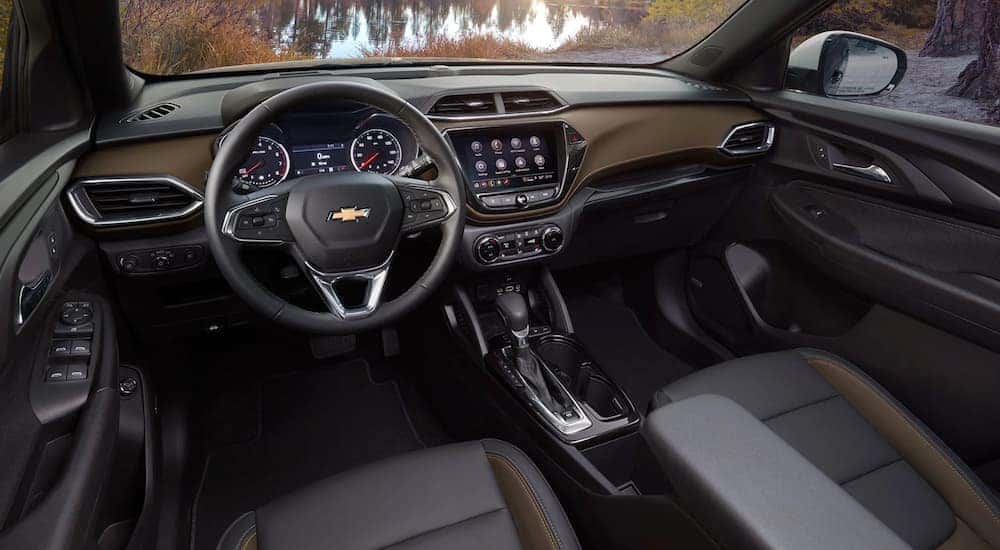 Advanced Entertainment and Safety
Immediately catching the eye as soon as you step into the 2021 Chevy Trailblazer is the 7" touchscreen in the center console. Surrounded by plenty of physical buttons for ease of use while driving, this screen operates Chevrolet's excellent standard infotainment system. Equipped with both Apple CarPlay and Android Auto, this system can connect seamlessly to your phone no matter which operating system you prefer. Even better, this connection can be made wirelessly, and it is possible to simultaneously connect two different phones––an incredibly valuable feature if you are often driving with passengers. To get the full wireless experience, the 2021 Chevy Trailblazer also has an optional wireless charging station for your phone in the front console. Finally, if you are not the type who keeps a lot of music on your phone, SiriusXM satellite radio will also be available.
But the advanced electronics of the 2021 Trailblazer are not limited to entertainment. Starting with an electronic parking brake, Chevrolet has made numerous modern safety features standard for the new Trailblazer. These include automatic emergency braking for both vehicles and pedestrians at speeds of up to 50 mph, forward collision and lane departure warnings, a backup camera, and a following distance indicator. Together, these features represent simply incredible value for a vehicle in this price range and will make your driving experience safer and more convenient.
If the standard features are not enough for you, the 2021 Chevy Trailblazer will also offer even more optional features. Among these are adaptive cruise control, blindspot alert, rear cross traffic alert, rear park assist, and an HD backup camera. Although these optional features may not have quite the same safety value as the standard features on the Trailblazer, they will certainly make your life easier––particularly if you often find yourself on the highway or maneuvering in crowded parking lots. We have certainly found them valuable when moving vehicles around the lot of our Chevy dealership.
Trim Levels and Pricing
The base L trim of the 2021 Trailblazer will have a starting price of only $19,000, making it among the most affordable SUVs on the market. And unlike many of its competitors, this base trim comes with the full set of standard safety features as well as LED running lights. This makes the L trim one of the best deals we've ever seen pass through our Chevy dealership.
Stepping up to the LS trim will give you 17" aluminum wheels, the fold-flat front passenger seat, and the option for AWD and a more powerful engine. The starting price for this trim is $21,500, and selecting all-wheel drive adds another $2,000. But if you have experienced the weather in this area, then you know that the extra money may be worth the peace of mind that all-wheel drive can bring.
Above the LS trim sits the LT trim. This more luxurious option adds extras such as heated seats, a remote start system, fog lamps, and roof rails. The starting price is $23,600 and, like the LS trim, the LT trim has the options for all-wheel drive and a more powerful engine. Although it is a bit of a step up in terms of price, being able to climb into a warm car on a cold winter day is worth the cost.
Finally, there are the Activ and RS trims, which are easily identified by their two-tone color schemes. The Activ trim is intended for off-road use and comes with a modified suspension setup and different tires with improved off-road performance. The RS is the 2021 Trailblazer's sporty trim and has a dual exhaust, 18" aluminum wheels, a flat-bottom steering wheel, and red interior accents. Both the Activ and the RS will have a starting price of $25,400.
No matter which trim is right for you, the 2021 Chevy Trailblazer is an excellent deal. For the sake of comparison, the similar Ford EcoSport starts at $19,995. But at that price, it lacks any advanced safety features, only has 50 cubic feet of cargo space, and comes with a significantly weaker engine. To even get just blindspot warnings on the EcoSport requires choosing both a higher trim and an optional package that adds up to $23,450, and automatic emergency braking is completely unavailable.
Do not just take our word for it. Stop by our dealership in Bethlehem, PA, and see the value of the 2021 Chevy Trailblazer for yourself. We are confident that after spending some time with this vehicle, it will win your heart in the same way that it has won ours.