What To Do At The End Of Your Car's Lease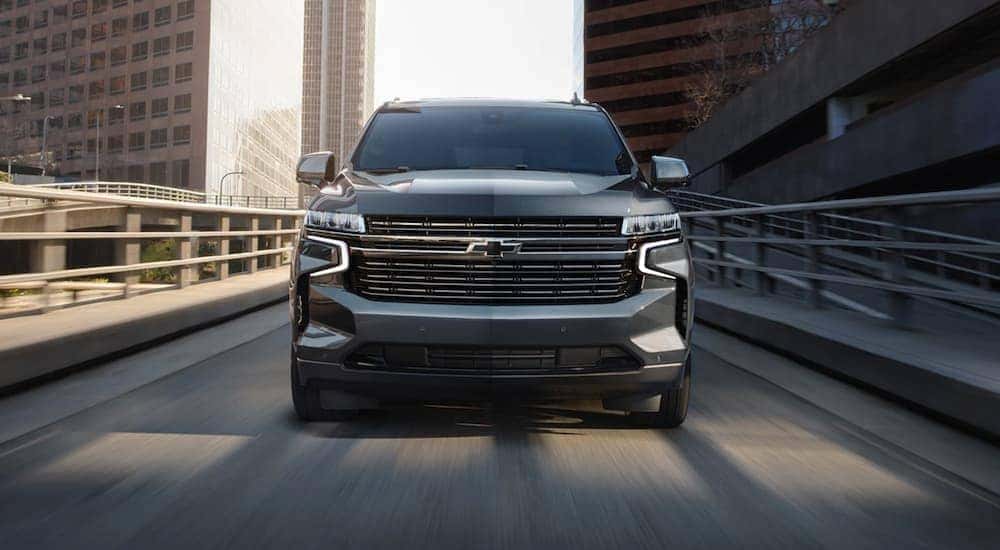 Those of us who choose to lease a car have all been there before. We look at the calendar and realize that the lease on our car, truck, or SUV is about to end. Aside from realizing it is time to consider leasing a new car, we also have to start preparing to return our current leased car. Unlike returning an apartment at the end of the lease, it is not as simple as just showing up and handing over the keys along with the car. There are things you must do and steps to take to get ready for the end of lease turn-in. There's an old saying "forewarned is forearmed," meaning that having prior knowledge of possible problems and issues gives you a tactical advantage. At Raceway Chevy in Bethlehem, PA, we understand that returning a leased car can be stressful, which is why we stand ready to help you in this process. Today we are going to go over how to prepare for the end of lease turn-in and what the process looks like.
Getting Ready for the Inspection
You are nearing the last four months of your lease, and you have decided it doesn't make sense to renew the lease or buy the car. Now you have to get ready for the process to begin. The first step is to do your own inspection of the car. Check to make sure that you have all the parts to the vehicle. Things like spare tire covers, jacks, cigarette lighters, and other removable items can sometimes be misplaced or lost during the years when you had possession of the car. If you cannot locate a missing part, it may be more cost-effective to go to the dealership or an auto parts store to replace the part yourself, rather than pay the fee when you turn the vehicle in. If you notice there is damage on the interior or exterior of the car, you should go to a qualified mechanic to at least get an estimate for the repair of the dent, ding, scratch, or stain. And oftentimes, it is reasonable to have it fixed ahead of time as well.
Additionally, if you had any aftermarket parts added to your car by anyone other than the dealer who leased you the vehicle, you should have these parts removed and replaced. For example, many people add aftermarket trailer hitches to their trucks and SUVs. These should be removed by a professional, and the vehicle returned to its original condition. Keep in mind that you can and will be charged for any excess wear and tear on your vehicle.
Clean Your Vehicle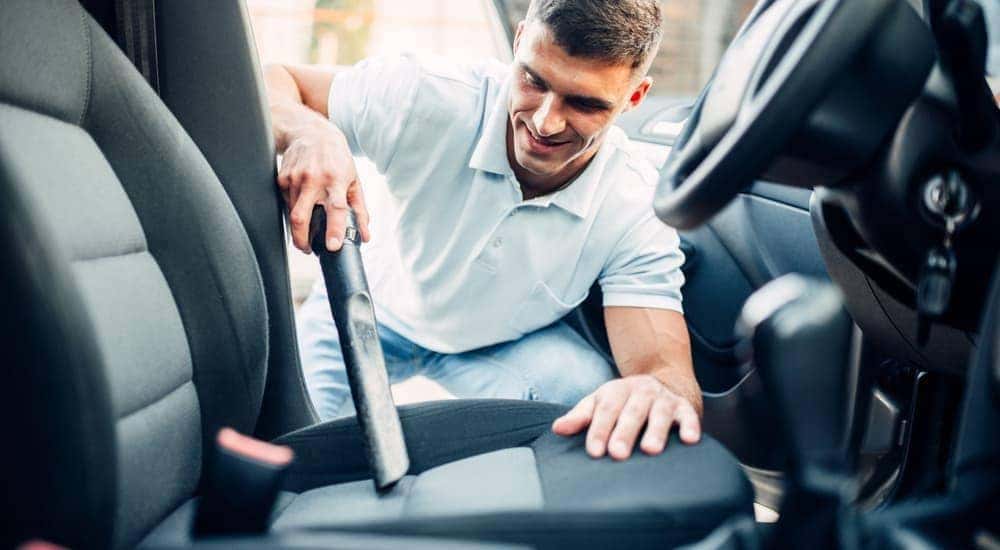 One thing that is actually much like returning a leased apartment has to do with your belongings. We all accumulate stuff in our cars over time, like maps, napkins, headphones, CDs, and phone jacks. Try to do a thorough job of going through your vehicle to remove all of your personal belongings. In addition, just like returning an apartment swept, take the time to clean the inside of your vehicle. It shouldn't take that long. All you need is a portable vacuum cleaner and a box of wipes. Vacuum all the surfaces and wipe down all the surfaces. It is amazing how a clean car can help when it is time for the inspection.
The Inspection
About 90 days before the end of your lease, the leasing company will notify you about the end of the lease. Read this notice thoroughly and follow each instruction. In addition, make sure to do everything as soon as possible. If the instructions are to contact your dealer, then call the dealer immediately. If the leasing company is handling the return, then contact them. All of this will be explained in the notice.
One thing that will happen is that an independent inspector will come to your home or office to inspect your leased vehicle. Make arrangements to fit this into your schedule. The independent inspector will take the time to do a thorough job, so budget between 45 minutes and one hour for the inspection. You will not be responsible for ordinary wear and tear like reduced tire tread depth. However, the inspector will measure all the damage on the vehicle. That means he or she will check on every interior burn, cut, tear, or stain and every exterior puncture, dent, and ding. The inspector will also check to see if there are any missing or broken parts (including copies of driver's manuals), cracks and stars in the windshield, and cracks in lights and turn signals. Finally, the inspector will make sure there is no malfunctioning mechanical or electronic equipment, that all repairs used standard parts, and that there are no unauthorized modifications. This can include changes in color, modifications to the suspension, any tinting or engraving in the glass, and any changes to the engine or fuel system.
After the inspection, you will receive a copy of the report that will list any damages that you will be charged for, including failing to take care of the car with routine oil changes and maintenance properly. That is why if you have kept a maintenance log on your vehicle, you should share a copy with the inspector. If you do not agree with the results of the report, you can undertake to make some of the repairs in the report and then request a second-chance inspection. In most cases, the amounts requested in the inspector's report will be reasonable, especially if you have properly maintained the vehicle during the lease period.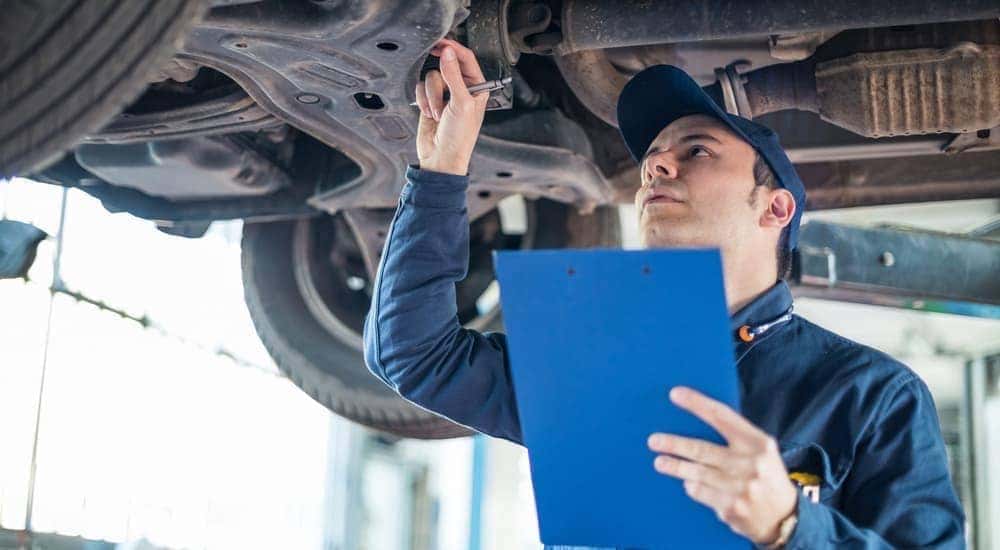 What About Mileage?
When you first leased the vehicle, you and the dealer agreed on the number of miles you could put on your car during each lease year. Typically, this will range between 10,000 and 15,000 miles per year. Keep in mind that if you bargained for a lower monthly lease payment, it was likely in exchange for lower annual mileage. If you have excess mileage, you will be charged by your leasing company. The amount is not difficult to calculate. Check your lease agreement to find out the per-mile charge. First, calculate the number of excess miles by subtracting the amount on your car's odometer by the number of miles you were allowed under the lease agreement. Then, take this number and multiply it by the per-mile charge to determine the potential excess mileage charge. This should give you an idea about how much you will owe for excess mileage.
The Day of the Return
Based on the instructions you received, you will either be driving your leased car to the dealership or another specified location. Bring the vehicle to the correct place and take one more look inside the vehicle and the compartments to make sure you have taken out all of your personal belongings. You will then be presented with some documents and walked through what your options are if you want to continue with the dealership through purchase or another lease.
Returning a leased vehicle can be extremely stressful. If you prepare for the turn-in day as outlined above, things should go as smoothly as possible. Plus, if you are leasing with Raceway Chevy, our dedicated team will be there to help you every step of the way. Are you at the end of your lease? Visit Raceway Chevy so we can help you find your next vehicle.