A Rundown of Chevy Regular Cab Trucks for 2020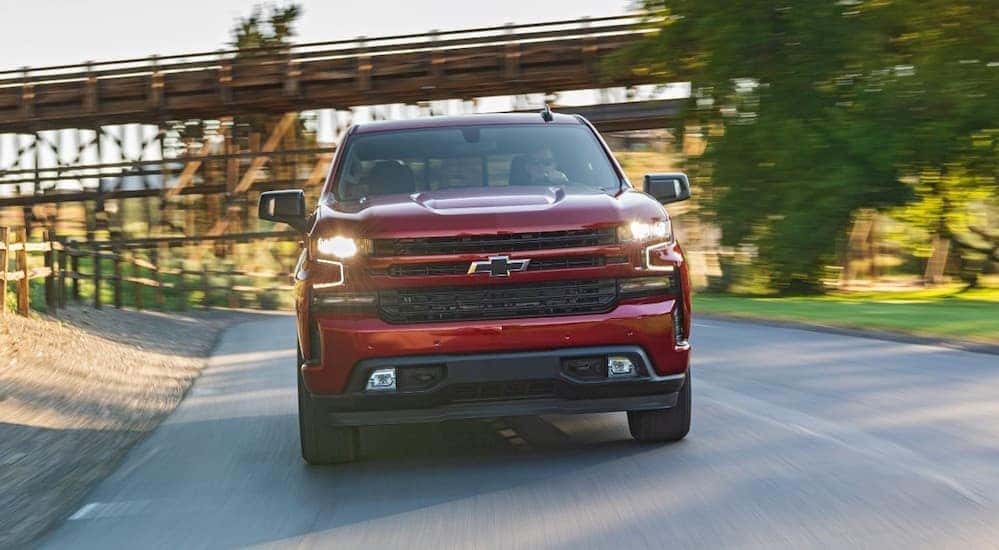 I happened to hear someone ask an interesting question while I was at a Chevy dealer near me: does Chevy make a regular cab truck in 2020? And while this dealership happens to be one I work at, Raceway Chevrolet here in Bethlehem, PA, I think this costumer was on to something. It's a good question to ask, with most automobile makers now focusing on crew cab and extended cab models. You don't often find a company emphasizing the basic work truck in their lineup, so it's not always apparent what your options are when it comes to looking for a truck built solely for the purpose of hard work. Ram and Nissan don't even carry a regular cab half-ton truck for 2020. We all appreciate the extra space of an extended cab or crew cab, but what if we don't need it? What if we have a crossover SUV in the garage for the family and just want something that will tow and haul, handle serious payload—something we can beat up a little and not worry too much about.
Options 
They were thinking about putting a rack on a Chevy Silverado so they can haul lumber and build that deck they've been dreaming about, and I liked the direction they were going, so let's approach this search from a similar angle. This regular cab Chevy might just be our ticket to a cold beer on the porch. Well, now that we have all the motivation we need, let's take a look at what our options are. We know we want to look at Chevy because of its reputation for solid work trucks. Chevy has the truck building know-how we're looking for, and the 2020 generation is bigger and lighter than ever before. Not only that, it has an unpretentious look we're after. This is a truck that doesn't care about being flashy. It has one purpose, and that's to get the job done. What we're looking for is pure functionality, built for hauling heavy equipment and serious payloads.  
How Much Truck do You Need?
So the big question now is: how much truck do you need? You might have noticed the 2020 Silverado 1500 is at the top of its class in towing and hauling. With up to 20% more standard cargo volume than the competition, best-in-class bed width, best-in-class bed length, and cargo volume, you'll have all the room you need to keep up with your projects or meet the demands of a construction job. Chevy calls it the most functional bed of any pick-up, and there's really no arguing with this. 12 tie-downs are standard, three times more than any other pick-up truck. Also worth noting is the construction of the bed. The bed floor is built from high-strength, roll-formed steel, making it tougher and lighter than previous generations. Lucky for us, it's only available as a long bed, so Chevy clearly knows what this truck will be used for—work, and lots of it.
Performance Features
Standard is a 4.3L EcoTec3 V6 engine with 285 hp and 305 lb-ft of torque. That should definitely get the job done. But if you need more power, there is also an optional 5.3L EcoTec3 V8 engine, both with a 6-speed transmission. The 5.3L engine has 355 horsepower and 383 lb-ft of torque, and it costs less than $2,000 to upgrade to this engine. Both engines also have Active Fuel Management technology and a tow/haul mode, so you know the truck was made with work in mind. The tow-haul mode raises transmission upshift points to supply more power to accelerate with a heavy load, and raises downshift points to use engine compression to help slow the truck and go easy on the brakes when you have a heavy load in the bed or are towing a boat to the lake.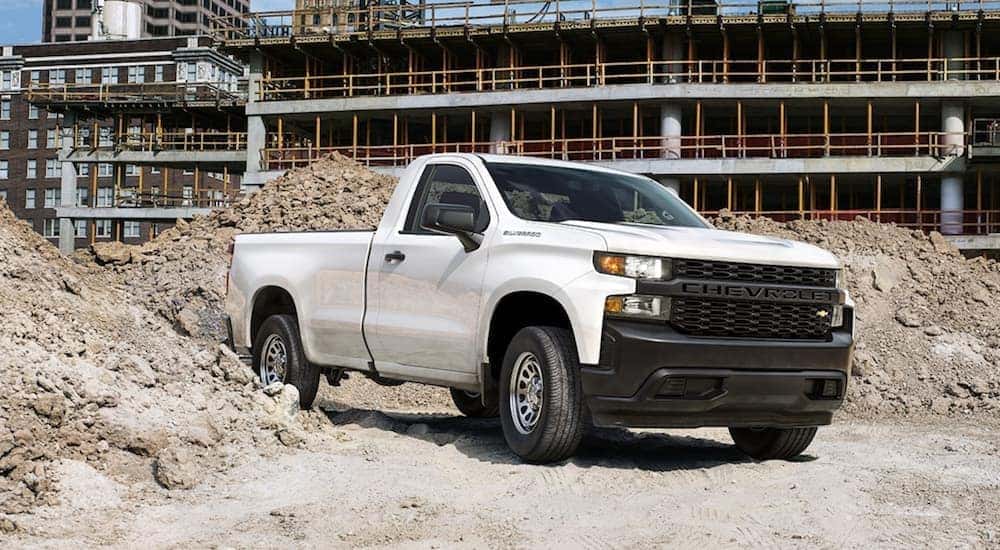 The starting price for this truck is $29,895, and this includes a rear vision camera and a Chevrolet Infotainment 3 System with a color touchscreen, among many other features, which means you're getting a lot of truck for under $30,000. Chevy's pretty much set us up with everything you will need to finish that deck, and now you'll have the extra money for lumber. You might even consider going with Redwood now and ditch your plans of saving money and using Douglas Fir. Anyways, let's take a look at some of the other options out there.
Need More Power?
The next big offering from Chevy is the Silverado 2500HD. This comes as a regular cab long bed as well and is also designed specifically as a work truck. It's relatively similar in price, starting at $35,695, which is actually $300 less than the 2019 model. All models come with standard trailer tow mirrors, and for even more peace of mind when towing, there's an optional camera system that provides 15 different views. 
Heavy-duty trucks will give you more size and capability, and they're surprisingly not much more expensive than their full-size counterparts, starting a touch above what you'd expect to pay for a standard truck. And this one comes with a new direct-injected 6.6L V8 gas engine. The engine is built with a forged steel crankshaft, forged powder-metal connecting rods, and additional high-strength components that add strength and durability. You'll get 401 hp and 464 lb-ft of torque. There's also an optional 6.6-liter turbo-diesel V8 producing 445 hp and an impressive 910 lb-ft of torque with a 10-speed transmission. 
Then there's the 3500, which is available in both single rear wheel and dually configurations. This truck starts at $36,895 for a regular cab in the work truck trim. For perspective, if you want to get a lot more out of your truck, there's a Silverado 3500HD High Country priced at over $65,000. This truck has all the bells and whistles you could ever want, including a crew cab, dually configuration, and long bed, but we're trying to keep things simple. If you're looking to drop its engine in a regular can model, that's an option. The High Country has a 6.6-liter Duramax diesel V8 and Allison 10-speed automatic transmission, which is capable of towing more than 30,000 pounds, and this is an option for the regular cab as well. The Duramax engine is available for the entire model range. 
So now we know there are definitely some good options for regular cab trucks at Chevy, and there's never been a better time to be looking. Chevy really went out of their way in 2020 to make their strongest work truck ever, increasing max towing capability by 52 percent. According to chief engineer Marissa West, Chevy "set out to make the best HD trucks on the market, bar none." You are in the right place here at Raceway Chevrolet. Lighter, spacious, great handling with increased towing and carrying ability than previous models, the only thing left to do is decide how much truck you need. This is going to be one of the best decisions you have ever made. 
The 2020 Silverado builds on Chevy's solid reputation and improves even more on its real-world capabilities, which is just what you're looking for: an honest, powerful truck built for any situation. Well, what are you waiting for? Get down to Raceway Chevrolet and get moving on building the new deck. Let's see; first, you'll have to grab the concrete for the deck footings…