A Must-Have Truck for Allentown Drivers: The Chevy Colorado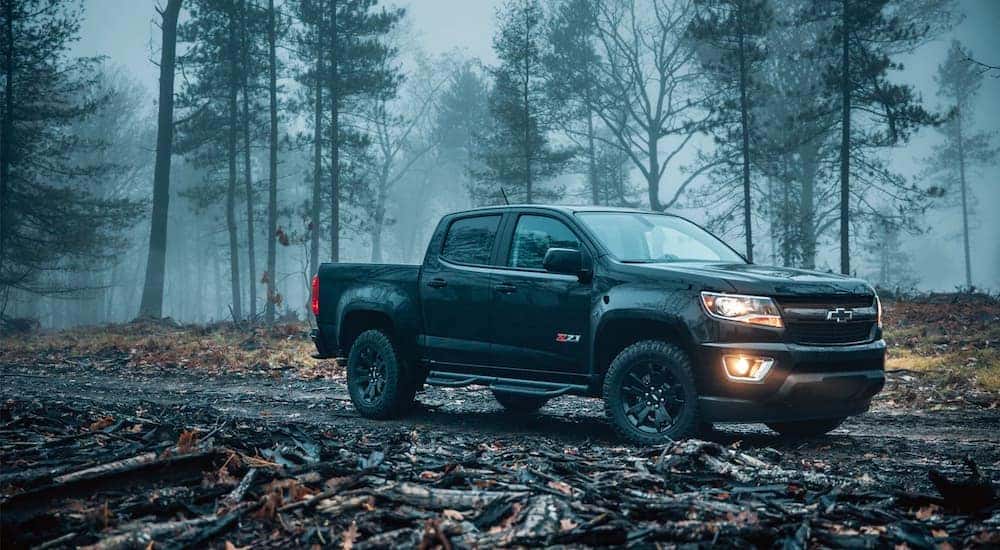 You just hit the jackpot on your search for used Chevy trucks in Allentown. As your premier Chevrolet dealer, we're excited to show you everything Chevrolet has to offer, especially trucks like the Colorado. While the Colorado might be the smallest truck in the Chevy fleet, don't discount its size for a lack of capability. Like our city of Allentown, the Colorado proves that looks can be deceiving. So, what makes it perfect for Allentown drivers? That's a question we're happy to answer as we look at how the Colorado will help you navigate everything our vibrant town has to offer.
It's Agile and Easy to Maneuver
Allentown is the largest city in the Lehigh Valley metropolitan area, the fastest-growing major city in Pennsylvania, and the third-largest in the state behind Philadelphia and Pittsburgh. This means that navigating the bustling metropolis can be stressful without the right vehicle. Fortunately, this is where the Colorado shines as the smallest truck in the Chevy fleet.
Depending on cab configuration and box length, the Colorado stretches anywhere between 212.7 inches to almost 225 inches, with a maximum width of 74.3 inches. For comparison's sake, the 2020 Silverado measures between 229.5 inches to 241.2 inches with a width of 81.2 inches. This difference may not seem like a lot on paper, but, in reality, it makes navigating busy city streets and tight parking spaces a whole lot easier.
It's Powerful and Efficient
Chevrolet is known for its remarkable engine design, and that's no different for the Colorado. In 2017, Chevy extended the Colorado's powertrain lineup to include a 3.6-liter V6 with active fuel management to optimize both power and efficiency. Since then, the Colorado's available engines have only gotten better with time.
Models like the 2020 Colorado are evidence of this and come equipped with one of three capable engines. The 2.5-liter four-cylinder engine delivers 200 horsepower and 191 lb-ft of torque for plenty of power for in-town driving and cruising the highway, while the 3.6-liter V6 boosts these numbers to 308 horses and 275 lb-ft of torque. Since the Colorado is also more than capable of towing a heavy load, you'll find some models equipped with the 2.8-liter Duramax turbo-diesel that churns out 181 horsepower and 369 lb-ft of torque for exceptional trailering capability.
What's truly remarkable about the Colorado is that its power adds to its versatility. It delivers enough horsepower to quickly accelerate on the highway and enough torque to pull the truck through the gorgeous Appalachian Highlands. This power isn't mutually exclusive with efficiency as the Colorado, depending on year model and trim, average anywhere from 20 MPG in the city to 30 MPG on the highway.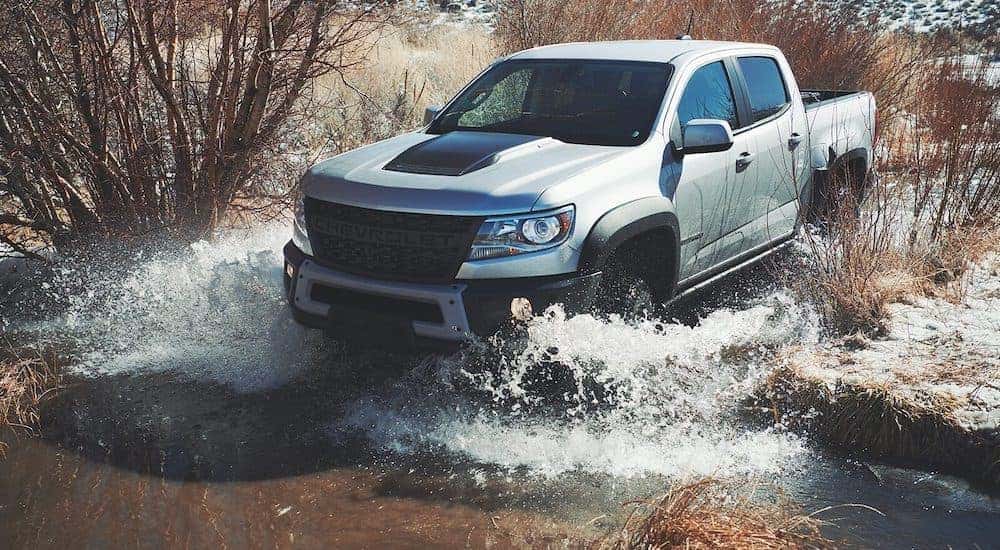 It's Ready for Adventure
While its small size makes it agile and efficient in town, the Colorado is a reliable adventurer, especially when you find a trim like the ZR2. Looking at the 2019 Colorado ZR2 is a great example of this and everything the Colorado has to offer when it's time to explore Allentown's vast landscape and gorgeous terrain. The 2019 ZR2 can expertly handle this thanks to its wider stance, lifted suspension, Multimatic dampers, and class-exclusive front and rear electronic locking differentials that make it a capable rig on any terrain.
Chevrolet truly thinks of everything and ensures models like the Colorado ZR2 live up to their full potential. This is made possible with the ZR2's available 3.6-liter V6 engine or the 2.8-liter Duramax diesel, as well as a host of off-road components like skid plates and a tapered front bumper that ensures a better approach angle when tackling rocky terrain. You'll even discover that roughing it on the trail doesn't require you to sacrifice comfort or luxury since many ZR2s come with heated front seats, smartphone integration, wireless charging, and a range of other conveniences.
It's Loaded With Tech
From its introduction in the early 2000s to its reintroduction in 2015, the Colorado consistently delivers an exceptional suite of technology. With time, this technology evolved into cutting-edge tools that are designed to keep you informed, connected, and safe when you're on the road. So, what are your technology must-haves in the Colorado?
If you're on a strict budget, earlier models like the 2015 Colorado still have plenty of features to offer, like Chevrolet MyLink with text messaging alerts and Siri Eyes Free. The 2015 Colorado also introduced Americans to segment-first tools like the Forward Collision Alert and Lane Departure Warning, which have since become a staple in the Colorado's safety suite. For those looking for updated technology, Chevy made significant improvements to the Colorado in 2019 with the addition of the Chevrolet Infotainment 3 system housed on either a 7-inch or 8-inch color touchscreen display. With the system offering smartphone integration via Apple CarPlay or Android Auto as well as wireless charging and a 4G LTE WiFi hotspot on newer models, the Colorado makes accessing your apps intuitive and ensures you never miss a beat of your busy life.
It's Engineers Confidence Behind the Wheel
Chevrolet is dedicated to keeping you and your passengers safe when you're on the road. To ensure this, trucks like the Colorado are equipped with cutting-edge safety and driver-assist tools that enhance your visibility and minimize the potential for collision. You'll even find safety tools designed specifically for teen drivers, which gives parents peace of mind when their new driver first gets behind the wheel.
The 2017 Colorado was the first year the truck came standard with Teen Driver, a Chevy-exclusive tool that gives you insight into your teen's driving habits. Along with this technology, you'll find a wide range of safety features on the Colorado that extend beyond the advanced airbags and high-strength steel frame. Every Colorado comes standard with a rear vision camera, while some models offer a high-definition rear vision camera that gives you a clearer and less obstructed view behind the truck. If you're looking for more safety and driver-assist tools, keep an eye out for LT and Z71 models, as these often feature Rear Park Assist, Lane Departure Warning, and Forward Collision Alert.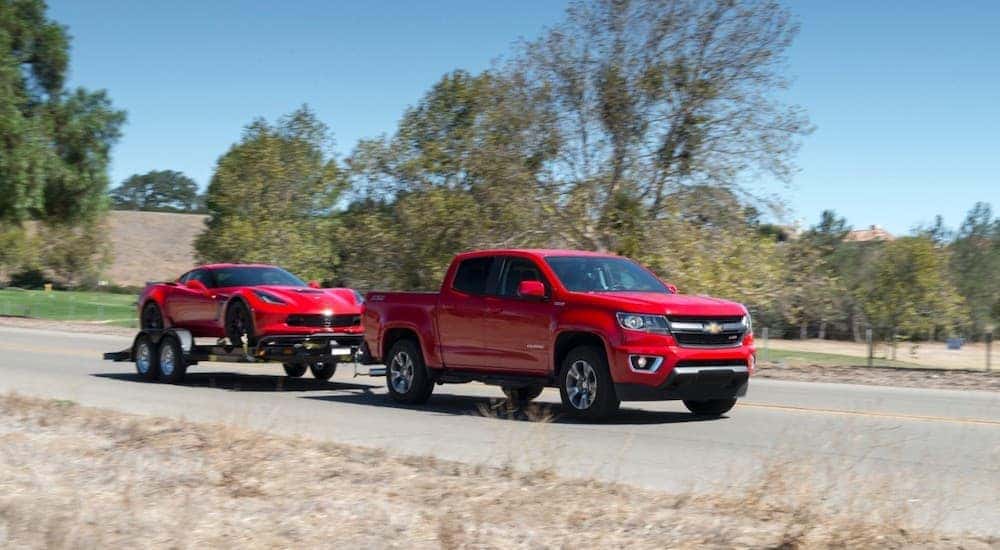 An Exceptional Value for Allentown Drivers
The Colorado has a rich history in the Chevy lineup after making its debut in the early 2000s, only to be discontinued in 2012. Fortunately, demand for the truck prompted Chevy to reintroduce the Colorado in 2015, and Chevy drivers responded in kind. Why? Because the midsize truck is agile, easy to maneuver, versatile, efficient, and plenty capable. It proves that size doesn't matter, at least not in a Chevy road warrior like the Colorado.
These features make shopping for a used Colorado a great investment for Allentown drivers. But there's one other factor to consider, and that's the value of the truck. A 2022 Colorado starts at around $25,000, which is incredibly reasonable for a new truck that's loaded with the latest technology and features. You can expect to pay far less than this for a used Colorado, which means more money in your wallet and an investment you can be proud of for many years ahead. How so?
Buying a used Colorado means you're avoiding the rapid rate of depreciation that befalls every new vehicle the moment it leaves the lot. You're losing money on the vehicle before the ink is dry on the paperwork. By shopping for a used Colorado, you're paying closer to the true value of the truck. It also means your money goes further on the used lot and can get you behind the wheel of the Colorado of your dreams, whether that's the adventurous ZR2 or a top-tier trim like the Z71.