2020 Chevy Colorado ZR2 Bison: An Off-Road Stampede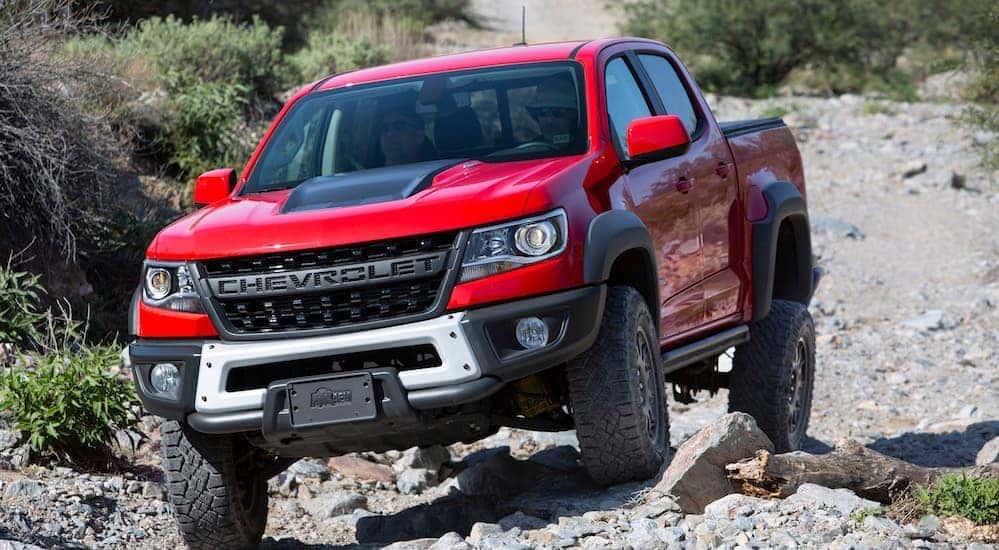 These days, most every truck manufacturer offers an off-road edition of their small and midsize pickup trucks. Yes, we have all seen them with their cool lines and rugged looks. Sure, they all look like they are ready to take on the fabled off-road rallies like Paris to Dakar and the Mint 400, but how many really have what it takes to give you the ultimate off-road experience? In other words, which ones don't just talk-the-talk, but also walk-the-walk? Chevrolet recently teamed up with the aftermarket off-road experts at American Expedition Vehicles (AEV) to produce the ultimate off-road pickup truck, the Chevy Colorado ZR2 Bison.
Built on Chevy's small truck Colorado platform, the Bison is a special package on the top-of-the-line ZR2 trim Colorado that doesn't just add cosmetic upgrades to the equation. The folks at AEV have worked with Chevy to produce an off-road truck that moves past the 'for looks only' and pretenders, and gives you the ability to stampede all the other trucks off the toughest off-road terrain. Come visit us at Raceway Chevrolet in Bethlehem, Pennsylvania, and test-drive a ZR2 Bison today. You will see first hand why this truck was named 2019 Off-Road Truck of the Year by Popular Mechanics.
A Powerful Drivetrain to Move the Bison
The 2020 Chevy Colorado ZR2 Bison is equipped with a standard 3.6-liter V6 engine, providing up to 308 horsepower and 275 lb-ft of torque. How powerful is this 6-cylinder engine? The ZR2 Bison is rated to be able to tow up to 7,000 pounds. It also won't hurt you at the pump, with an estimated 16 miles per gallon in city driving, 18 miles per gallon in highway driving, and 17 miles per gallon combined.
Not enough power for you? Then upgrade to the 2.8-liter Duramax Turbo-Diesel. This diesel efficiently uses all four of its cylinders to produce 186 horsepower and 369 lb-ft of torque, allowing the ZR2 Bison to tow up to 7,700 pounds.
Both engines operate on an 8-speed automatic transmission. This gives you the control you need to deal with whatever terrain and the elements may throw your way. You can take your ZR2 Bison anywhere, as it will be equally at home in the forest, out on the sand dunes, or just cruising down the road.
Looks to Thrill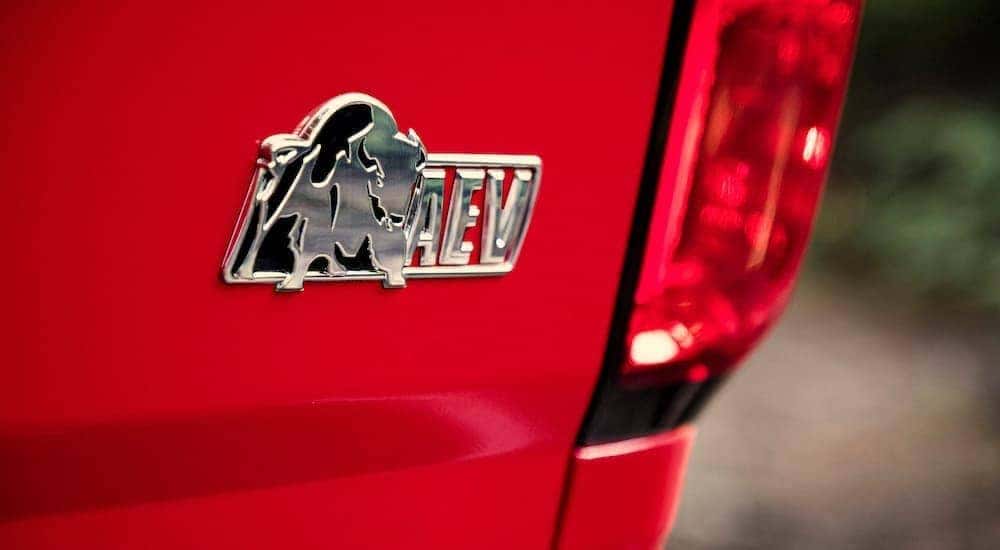 Chevrolet and AEV have given the ZR2 Bison several distinctive cosmetic features to make it stand out from the pack. It starts with distinctive "CHEVROLET" lettering across the grille, and special wheel moldings. It has special AEV stamped steel front and rear bumpers, which is something only available on a ZR2 Bison. Moving to the inside of the ZR2 Bison, the folks at Chevy and AEV have given this truck special embroidered headrests, and front and rear AEV logo floor liners. This is in addition to the standard interior features on the Colorado ZR2 class truck, including 4-way heated front passenger bucket seats, automatic climate control, and heated leather-wrapped steering wheel.
The interior of the ZR2 Bison's crew cab will give you and your passengers plenty of room to stretch out while you test the limits of the truck. Front row passengers will enjoy 41.4 inches of headroom, 45 inches of legroom, 57.5 inches of shoulder room, and 55 inches of hip room, while the second row passengers won't feel cramped with 38.3 inches of headroom, 35.8 inches of legroom, and 56.2 inches of shoulder room. You and your lucky passengers will experience incredible comfort in an interior that compliments the rugged looks of the ZR2 Bison.
Built for the Off-Road Adventure
The engineers at Chevrolet and AEV have designed the ZR2 Bison to handle even the toughest off-road terrain. It starts with the exceptional base features of the 2020 Chevy Colorado ZR2, and then takes them to the next level. The 2020 Colorado ZR2 is the first truck in this line to feature the off-road application of Chevy's Multimatic Dynamic Suspensions Spool Valve (DSSV) damper technology. This will improve the feel of the ZR2's suspension system, allowing it to take on tougher terrain without compromising the overall ride of the truck. The ZR2 also features front and rear electronic locking differentials, cast iron control arms to increase strength, and a suspension that has been lifted 2 inches higher than on the standard Colorado truck to improve off-road performance. To improve performance over obstacles such as rocks, Chevy has outfitted the ZR2 with functional rock sliders and better clearance under the front and rear bumpers. Chevy clearly understands that form has to meet function in order for an off-road truck to be able to perform in an optimal fashion. Chevy has also added heated outside mirrors and a Hitch Guidance12 system to complete the 2020 Colorado ZR2 package.
A number of key exterior features have been added to make the ZR2 Bison the top off-road truck in its class. First, the Bison is four-wheel drive standard. Chevy and AEV understand that there is no point in making a 2X4 version of a truck that is designed for off-roading. To provide better protection for the vehicle, there are five hot-stamped Boron Steel skid plates. These are located at the front differential, the engine oil pan, the transfer case, the fuel tank, and the rear differential, to guard these key components during your off-road adventures. The Bison also has fog lamps, giving you the ability to better see your way through to your destination regardless of the terrain or the weather. To improve traction, there are AEV-designed wheel fender flares with 17 x 8-inch aluminum wheels. There are winch provisions on the front bumper and recovery points on the rear bumper. An AEV air snorkel is available as an optional aftermarket accessory as well.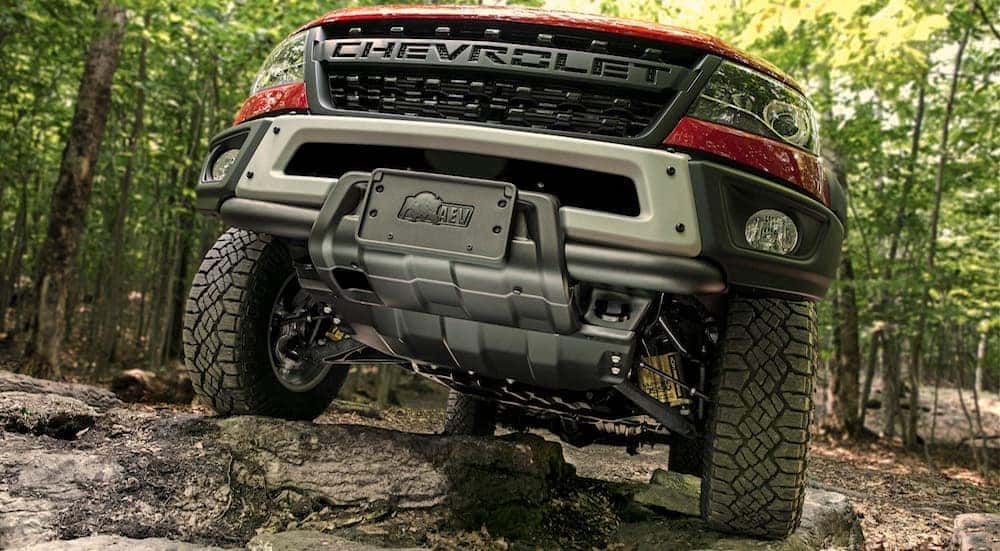 To make sure you and your passengers are safe throughout your journey, the 2020 Chevy Colorado ZR2 Bison features six airbags, a passenger sensing system for the front passenger airbag, a tire pressure monitoring system, tire fill alert, daytime running lamps, and an HD rear vision camera. The truck also has standard StabiliTrak electronic stability control with rollover mitigation technology, trailer sway control, and hill-start assist. The ZR2 Bison is also connected to Chevy's OnStar system to provide real-time assistance from Chevy's team of experts.
The ZR2 Bison Meets, and Beats, the Extremes
If you are looking for a basic off-road vehicle, then the standard 2020 Chevy Colorado ZR2 should be sufficient. However, if you want a vehicle that you can push to the limits and beyond, then you need a ZR2 Bison. This can handle the extremes of weather, from snowstorms in hill country to high temperatures on the dunes in the desert. If the ZR2 Bison can't get through it, then nothing that is commercially available will either. The base MSRP for the 2020 Chevy Colorado ZR2 Bison is $47,845, a relative steal for an off-road vehicle of this capability, comparable to other trucks in its class, and less costly than the so-called off-road trucks offered by luxury vehicle manufacturers. Also, this is only a slight $5,000 step-up in price over the base MSRP of $42,490 for the 2020 Chevy Colorado ZR2.
Saddle up a ZR2 Bison today, and hit the trail head-on with the best off-road small truck in its class. You'll be ready to take on whatever nature can throw at you.