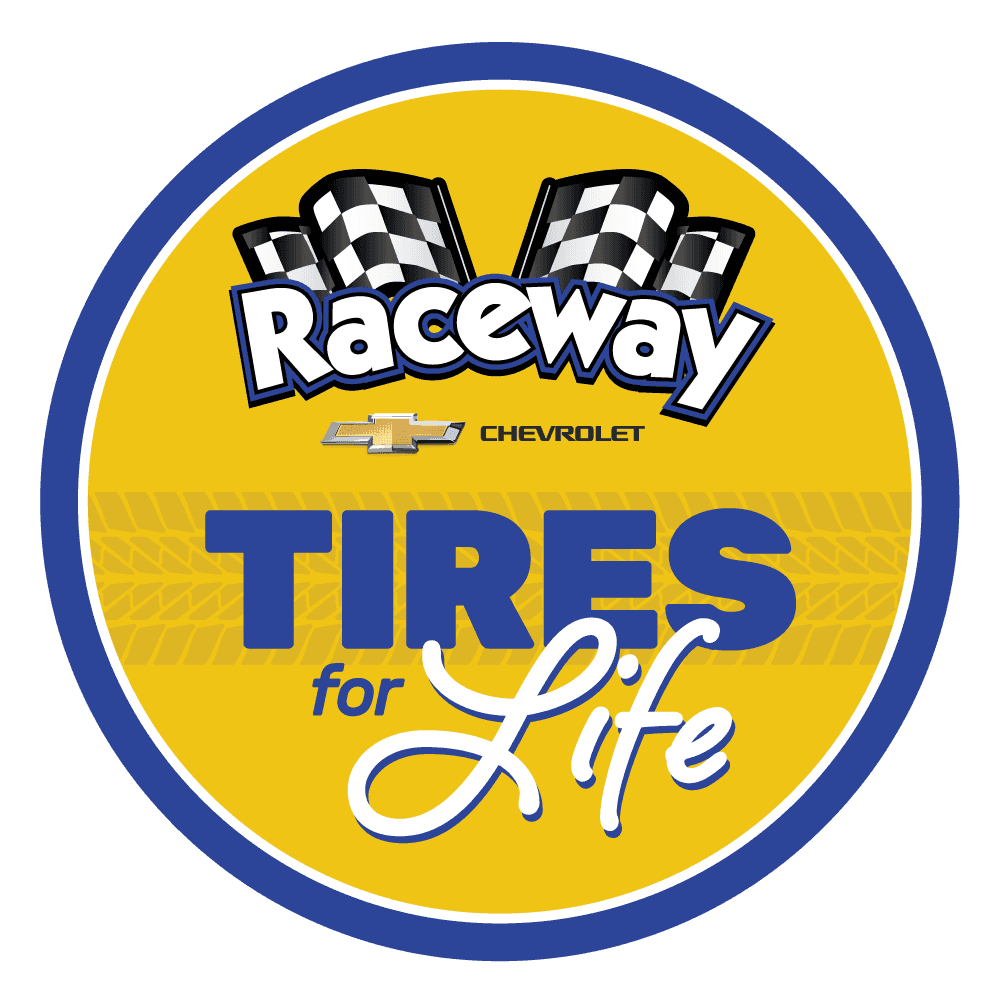 TIRES FOR LIFE AT RACEWAY CHEVROLET
TO MAINTAIN ELIGIBILITY YOU MUST DO THE FOLLOWING: ALL MAINTENANCE SERVICES MUST BE PERFORMED AT RACEWAY CHEVROLET USING OUR PARTS AND LABOR SERVICES.
Tires damaged by road hazards, misalignment, improper inflation, or abnormal wear are not eligible for replacement.
Alignment will be measured at beginning of service, If RED – customer must pay for an alignment in order to maintain TFL eligibility – Not required yearly, ONLY when needed as per dealership service adviser guide. Alignment measured by computerized machine 99.9% accurate. If you perform all required maintenance at Raceway Chevrolet we will provide up to $150 per tire with a maximum payout of $600 once the tread depth has worn to 3/32 of an inch or less. You will be responsible for the cost of mounting, balancing, sales tax, and disposal of tires provided under this program. Tire(s) provided will be new tires of the comparable brand and size on your vehicle as of the purchase date above. Only tires worn out due to normal wear will be replaced.

REQUIREMENTS TO MAINTAIN THE TFL PROGRAM:
Customer MUST maintain the vehicle as per the Raceway Chevy Maintenance Schedule that they will be given on Day 1 of Sale or during Service Visit. This is critical to ensuring the vehicle quality is maintained and the tires are rotated/balanced enough to where the dealership does not run into issues continuing the program for many years to come!
IF customer misses a certain interval service, they will have one opportunity to pay $150 to make up for that required service. This will be a one-time good faith gesture.
Nitrogen Protection: Included with initial purchase which also covers road/ hazard tire issues – if you hit a pothole, or if you hit a nail, the previous tires for life would not cover those issues but now with our new and improved nitrogen program we will cover nails/potholes.
In order to have the yearly continued protection you must re-fill with nitrogen yearly at the dealership during any routine service or maintenance. There is no exception, if the services are not completed during the interval required, we can not give the tires away, there is no tolerance threshold, we simply can not do it.
New Vehicles: MUST follow Raceway Chevy maintenance menu intervals or TFL Program becomes VOID. Must fill nitrogen yearly to keep tire warranty in addition.
Used Vehicles: MUST follow Raceway Chevy maintenance menu intervals, if "as-is" vehicle must change oil every 3,000 miles and rotate/balance tires every 6,000 miles. Must fill tires annually with nitrogen to keep tire warranty in addition.
Used Vehicles w/ Synthetic Oil or Diesel Engines: Change your oil & filter every 6,000 miles, and rotate your tires at each service interval. Specialty vehicles will be given specific instructions at the time of sale to maintain TFL.
Used cars must have all services performed within 500 miles of the required interval. THERE WILL BE ABSOLUTELY NO EXCEPTIONS.
EXCLUDED VEHICLES: ANY Sports Cars — Corvette/Camaro, ANY trucks with over-sized or off-road tires, lifted trucks, diesels, plow trucks or any trucks used for work.