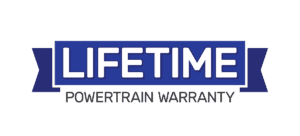 FAQS ABOUT RACEWAY CHEVROLET'S LIFETIME POWERTRAIN WARRANTY
WHAT VEHICLES ARE COVERED?
The Lifetime Powertrain Warranty is included on most new and used vehicles (some exclusions apply) up to 8 years old or with up to 80,000 miles. Certain brands are excluded, so please see dealer for details.
WHAT IS COVERED UNDER THE LIFETIME POWERTRAIN WARRANTY?
The lifetime powertrain warranty covers the engine, including anything that is contained within the engine block and cylinder head(s). In practical terms, that means you don't have to worry about the water pump, the fuel pump, the oil pan, the timing belt, the engine mounts, the intake or exhaust manifolds. The warranty also covers the transmission, the transfer case, and the drive axle.
HOW MUCH IS THE DEDUCTIBLE? HOW MUCH DOES THE WARRANTY COST?
The warranty costs nothing for you-it's a part of our customer commitment at Raceway Chevrolet. When you have a claim, you'll pay a low $100 deductible.
DO I HAVE TO PAY FOR ADDITIONAL MAINTENANCE TO KEEP MY WARRANTY?
No! You have two main requirements to keep your warranty valid. The first is to complete all manufacturer recommended maintenance on time, either at Raceway Chevrolet or at another reputable service center. If you don't get your maintenance handled at the Raceway Chevrolet Service Center, you'll need to keep all of the records of your maintenance. If you do it at Raceway Chevrolet, we'll take care of that paperwork for you. The second requirement is to return to Raceway Chevrolet every five years to have a complimentary powertrain inspection. This way, we can make sure that we are keeping up with your vehicle and making sure it's in peak condition for you.
IS THE WARRANTY TRANSFERABLE?
No. The warranty is good for as long as YOU own the vehicle. Once the vehicle is sold, the lifetime powertrain warranty is null and void.
IS THERE A CATCH?
Usually when things seem too good to be true, they are. But in this case, the lifetime powertrain warranty is exactly as good as it sounds. We're proud to give you the tools to stay in your Chevy for as long as you want to, with the confidence to know that you are covered.
**Lifetime Powertrain warranty is excluded on certain vehicles and only valid on vehicles under a certain mileage/age requirement. Dealer will provide contract at time of signing. If there is no contract signed by customer, the warranty will be null and void.**